Have your passport ready and link up your favorite travel posts to Travel Tuesday.
Welcome to the seventh Travel Tuesday blog hop.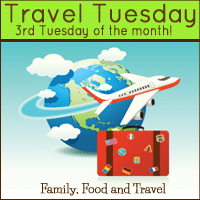 This Travel meme is designed so that we can hop around, read about each other's travels and share our love for adventure.
What can you link up?
1. Vacations 2. Trips to the park, ski hill, zoo, museum etc. 3. Review of a hotel or travel destination 4. Review/post about a travel related gadget/gear/clothing etc. 5. Posts about dream destinations or the places you would like to travel.
Rules:
Follow the host: Kerrie @ Family Food and Travel
Follow this week's guest host: Terri Lynn @ Rambling Mama
Once you have posted your link, hop on over to other blogs and see what your fellow bloggers have written about.
Leave a comment, follow if interested and come back for the next hop, February 19, 2013
Happy Hopping!
*Note* If you are interested in co-hosting or guest hosting, email me at twinstravelblog@gmail.com